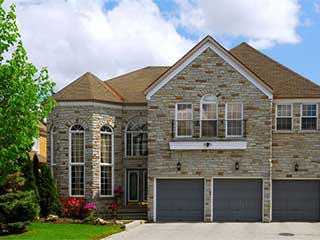 These days it isn't unusual for households to have more than one car. With this in mind, it stands to reason that you should consider a garage large enough to accommodate all of your cars. Larger garages mean larger openings. This leaves you with the dilemma of deciding between one large door and two smaller ones. Here are a few factors to consider before making this decision.
Consider Curb Appeal
Depending on the size and style of your home, one large door may be perfect. If the opening to your garage is too big, one door may make the opening look out of proportion. In this case, 2 smaller doors could solve this aesthetic dilemma.
Energy and Privacy
If you have a relatively large garage with one large door, your garage will lose an enormous amount of heat each time the door is opened. Two smaller doors will minimize heat loss, saving you a lot on heating costs during the cold months. The other thing to consider is how much of your garage's contents you want exposed each time you open and close your door.
What's Your Budget?
Your budget is also something you need to consider when deciding between one large door and two smaller ones. The cost of the actual door probably won't be a factor, but all the other components will be. Two doors means two motors, and two of everything else needed to complete your door. All this, of course, will depend in part on budget.
The Glitch Factor
Power failures and short circuited motors don't pose problems with opening garage doors, because they usually come with a safety release that lets you open your door manually. A broken spring on the other hand, will make it impossible to open your door. If you only have one door but multiple cars and a broken torsion spring on your hands, chances are you'll have some serious problems getting your cars out. With two doors, you'll at least be able to get one car out.
If you're still undecided, our experts at Garage Door Repair Vista will be happy to help, we can assess the space you have available and discuss your options with you.